Staircase Runner Installation
Installing Staircase Runner To A Straight Stairs
The easiest way to install a staircase runner on your straight stairway is to directly staple it onto your stairs. Use stair rods to further secure the runner. The rods also serve a double purpose of making the final output look neater.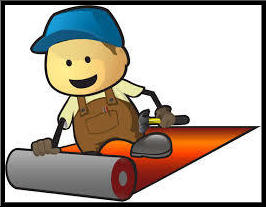 Stair Runner fitting made easy!
This is clasified as "easy" on the do it yourself scale.
Allow 30 minutes.
In installing your staircase runner, you will be needing the following tools:
Tape Measure, A Pencil, A Staple Gun, A Screwdriver (An electric one saves time), and a Utility Knife.
8 Easy steps to install your staircase runner:
Step 1. Mark intended position of your staircase runner on stairs with a pencil.
Step 2. Cut underlay if applicable to 10cm less than the width of runner and fix to the tread but not the riser. It pays to run the underlay just over the lip of the stair and fix with a staple gun. Leave a one inch gap at the back of the tread which will be where the stair runner fixing staples will go.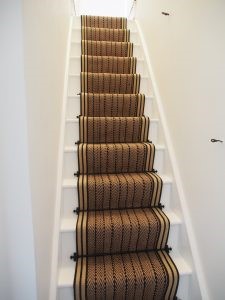 Step 3. Start with the short end of your staircase runner and fix it under the lip of the landing at the top of the stairs. This can be done with staples and optionally glue to create a flush finish
Step 4. Pull tight and fix next set of staples at 1 inch intervals at the junction of the tread and riser.
Step 5. Continue this process until you reach the bottom.
Step 6. At the bottom, finish at floor level. Cut 1cm long turn under and staple.
Step 7. If stair rods are being used, place a stair rod on each step, where the tread meets the riser. Screw in using enclosed 4 screws.This has the added benefit of covering up the staples.
Step 8. Stand back and admire your work!
Caution: Always thoroughly check all your fixings before walking on the runner. For you and your family's safety.
You can also fit your stair runner to a quarter landing, half landing and winding stairs.For specific instructions on these process consult our free in house expert by email.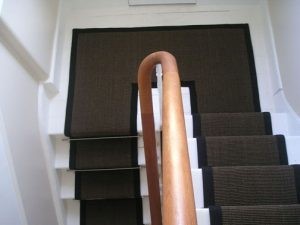 Chocolate Sisal Stair Runner Fitted Into a Half-landing

Jute Striped Border Fitted to a Winding Stairs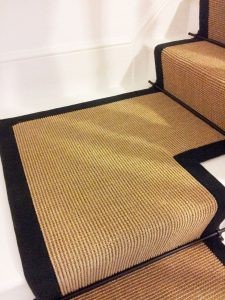 Quartet Landing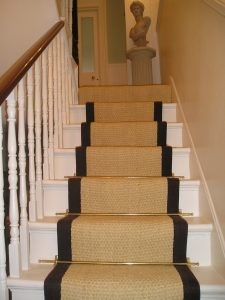 Straight Staircase
For free staircase runner installation advice from our experts, just email us at wholesalestairrunners@gmail.com. We are happy to help you.