Stair Runner Testimonials
Stair Runner Testimonials from some of our Previous Clients.
Here are some of the nice things our customers have said about our stair runner products. You may take a look at
our catalog here
.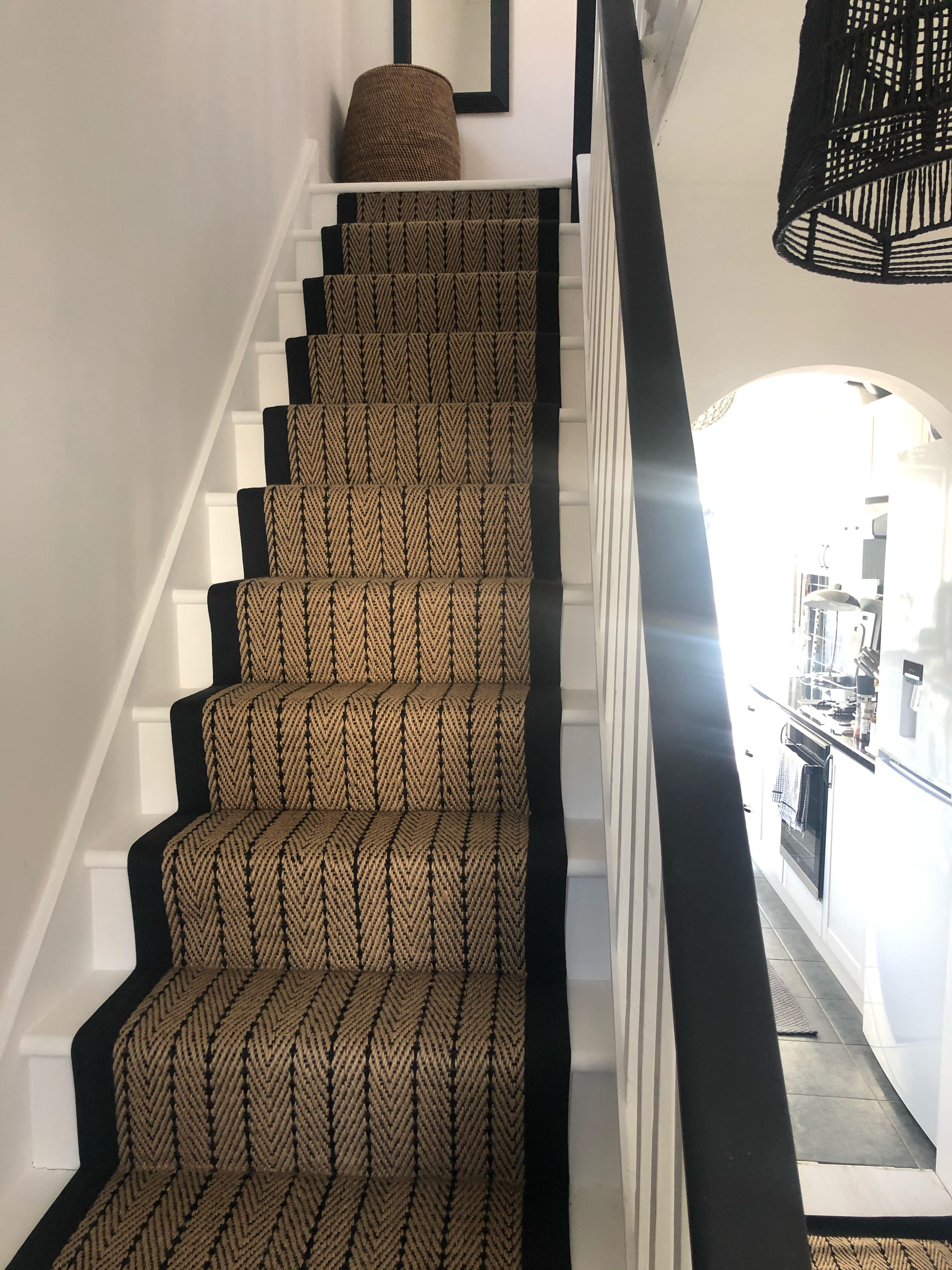 8th March 2021
Hi Julian,

I'm delighted. It looks just as I'd hoped and just as I'd imagine.
I love it !

Thank you for your support.
Julie-Anne

---
11th November 2017
Hi Julian,

Our stair runner has just arrived and it is magnificent. I love it!! And that's before it has even been laid! Cannot wait to get it fitted. Thanks for such a speedy turn around.

Best wishes
Tracy

---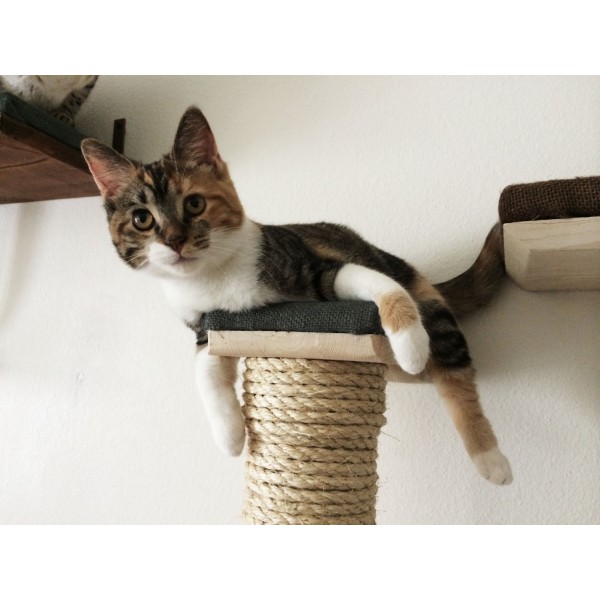 7th November 2017
Hello,

We have three cats so I have gone for the coir as we already have one of your coir runners before which was incredibly resilient and tolerated scratching. Which is why we are considering another!

Many thanks
Kate

---
3rd August 2017
Hi Julian,

Just to let you know that the runner has arrived and looks great.

Many thanks for the excellent service
Gilly

---
31st July 2017
Hi Julian,

Thank you for the rug. It looks great in my living area.

Will definitely recommend your company to others.

Regards
Jackie

---
29th July 2017
Hi Julian

Stair runner arrived, thank you and it looks really great.

Many thanks.
Neil.

---
26 Apr 2017
Dear Julian,

As a former customer - (approx 11 years ago ) , you supplied a coir runner for me at home, which has been excellent. I've ordered a new runner- jute this time .............

Many thanks again
Vannessa

---
22 Feb 2017
Hi Julian,

yes - it arrived yesterday, super quick delivery, looks great, thank you!

Emma

---
21 Feb 2017
Hi Julian,

Just wanted to let you know the 60cm Jute runner arrived today - it is fantastic and exactly what we were looking for. I can't wait for the other one to arrive!

Best wishes
Kari
---
21 Feb 2017
Hi Julian,

The runner arrived today and I LOVE it. It will look really beautiful.
Thanks for all you help.

Kind regards,
Jenny
---
4 Feb 2017
Hi Julian,

Hope you are well. I finished laying the stairrunner last week—very straightforward. It now looks fantastic. Just wanted to thank you and your staff for all your help and advice. I've attached a photo. Lots of comments from friends about the great quality and feel, and will recommend if they want great quality at a great price with great support then you are the experts to go to.

Thanks again,
Justin
---
July 26, 2016
Hi Julian,

I have bought your stair runners in the past and they have been superb. This time I need a hall runner 4.5 metres long by 1 metre wide - is that something you can supply. Ideally jute or coir with a black border.

Kind regards,
Celia
---
July 24, 2016
Hi Julian,

"Top notch very happy thank you"

Thanks

---
July 15, 2016
Hi Julian,

Got runner yesterday really nice cant wait to have it fitted!

Thanks,
Joanne
---
June 18, 2016
Hi Julian,

Hoping all is well - I now have the stair runner down and it looks great.

Many thanks,
Solly
---
May 09 2016
Julian

The stair runner just came. yahoo!!!

Thanks so much for everything………. after the stairs get painted, my flooring man will put the runner down….. and i CAN'T WAIT. I've thoroughly enjoyed our emailing. and i love your product – it appears to be the perfect carpet for stairs – simple, comfortable, sturdy, elegant. thanks, julian!!!

Jan Owens
---
May 09 2016
Hi Julian


Just wanted to say a big thanks my stair runner was fitted today and looks great your fitter Lloyd was very professional & very tidy thanks again will defiantly recommend your company.

Maria Hounsell
---
May 09 2016
Hi Julian


I have received the stair runner, thank you very much for your help and giving a superb service.

Mike Smith
---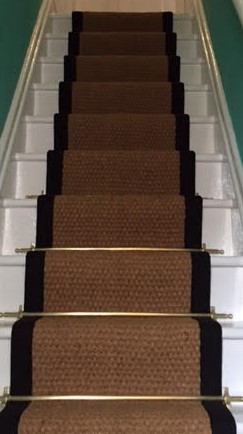 4 January 2016

Hi Julian

Many thanks for the carpet - just as good as the last one we got from you ten years ago!!!


John


















Mar 17 2016
Hi Julian

Your carpet is going down a treat ( excuse the pun!)

We work with interior designers and I have copied this e-mail into Stephanie

Hope you are keeping well

Jarvis
---
11 Mar 2016
Hi Julian,

You fitted a sisal gold stair runner and landing about 4 years ago and I have been so pleased. I now have another staircase after access to a loft room.....

Thanks

Kim
---
Wednesday, February 17, 2016

Julian -
Everything arrived safely and on time
Your service has been excellent and I appreciate all your help with my questions -
All the best
Marie
---
24 January 2016

Hi Julian,

....... I have my stair runner, and it is absolutely stunning

Many Thanks Julian

Corinne
---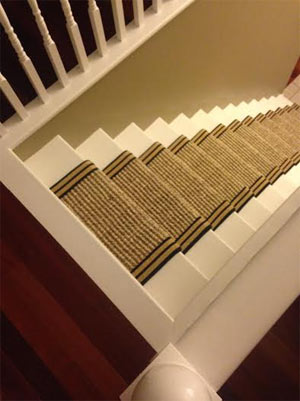 4 January 2016

Hi Julian

Here are a couple of photos of our stair runner. We love it. Great quality and exactly what we were looking for. Our carpet fitter said he'd never come across such a thick runner and he's been doing it for 30 years!

Feel free to use the photos on your website if you like.

Thanks and best wishes
Helen









---
Hi Julian,

Couple of pics of install.

I fitted the stair runner and my other half fitted the landing carpet. Well pleased with the results as expected.

Thanks again for all your help.

Regards,

Colin
---
Hi,

We have received the runner and underlay pack. It's lovely, thank you. Looking forward to getting it fitted...

Many thanks
Jacqueline
---
2015 April

Hi again Julian, hope your week is going alright!

The runner arrived and is just wonderful, we love it!

Have a good day!

Tanja
---
Hi Julian.

Your stair runners were a perfect match for our stairs and I look forward to getting more from you.

Donald Ray Bernard
---
Hi Julian.

It's Andrea and my runner arrived. It's beautiful

Thanks much.

Andrea
---
Hi Julian,

Carpet received and all good. Thanks for the follow up.

Looks great.

Alison
---
Happy New Year Julian, I just thought I'd reach back out to tell you that the runner and landing carpet were installed, tiny punch items picked up the week before last and everything looks great - happy client :-) Thanks - I'll remember you the next time I am in need of a runner,
Karen Schlesinger
---
Julian, We got the rug and really love it ,we'll have it installed Friday THANK YOU! Frieda Young (Michigan USA)
---
Am delighted with stair runner - dogs no longer fall down stairs on their bellies which was the main purpose in buying but it looks great too!
AILSA
---
Hi Julian

Thank you for and excellent and efficient service. The stairs and the landings have been transformed by the runner, stair rods and carpet. Needless to say Lloyd has done a really great job fitting everything. I have had really positive comments from everyone who has seen it so far.

Kind regards
Trudie
---
Julian,
Thank you very much for supplying the carpet fitters.
They were on time, very polite and professional. My staircase looks so much better now that it has been finished off.
Best regards,
Paola
---
Just to say carpet arrived today,extremely fast service,loved the carpet excellent quality.regards roy.
---
Hi Julian,

Please find attached a couple of pictures of my completed stair runner .
Thank you so much for the prompt delivery and the high quality of goods sent .
My wife and I are very pleased with the finished look

Best regards,
Paul Turner
---
hello!!
We received the Runner as promised...the quality is great, better than expected,Thank you very much!

Regards: Hermann Papke
---
Hello;
Just to confirm that we have received the carpet and we are very pleased with the quality and finish, thank you; your product is worth every penny...

Regards
Dave Martin
---
Hi Julian,
Just a quick note to say huge thanks for sorting the stair runner so well, it's all fitted & looks great.
Catherine
---
Hi Julian
finally I get my runner and it's fabulous perfect very pleased with the look and fitting

Sent from my iPhone
---
Just love the rug - it's great and super quality!
Thank you
Hilary Wakefield
---
Jullian,

A quick note of thanks. The carpet has arrived and we are very pleased. thanks for all your efforts on making this happen.

Sincerely,
Lori Wright
---
Hi Julian,
Just to let you know that the runner arrived safely last Friday and it's just what we wanted.
Many thanks
Jacqui
---
Dear Julian,

Thank you very much. The mats arrived and are perfect.

Yours,

Alice
---
LOVE IT!

It all looks reallygreat!
Many thanks for all your help.

Kind regards

Mary
---
Hi there Julian,
I hope you had a good Sunday. Thank you so much for everything on Saturday - it truly looks amazing!
Many thanks again.

Martin
---
Hello
Just taking a moment to thank you for the prompt delivery of our stair carpet it is fabulous, just hope I can get my husband to fit it as quickly as you delivered. We will recommend you to friends and family. We will also be placing another order shortly.

Thank you.
Sharon Flook
Llantrisant, Wales
---
Hello Julian
Many thanks for sending out my carpet order so quickly - very pleased with everything.

Kind regards,
Lynne Cornish
---
Hi there

Have recently bought a natural coir stair runner and black stair rods from you, which we are really pleased with. We now would like to add a rug using the same material to match...

PS Many thanks for the tips regarding fitting stair runners, they were very useful!

Best Regards
Darrell Kennett
---
Julian,

The stair runner is exquisite. Thank you so much. It is going to look so beautiful when I get everything done and get it installed.

Judy Lechowicz in Wolseley, SK Canada
---
Hi Julian

Just to let you know i am very happy with the sisal carpet and stair runner-it looks really classy!

Carol
---
How easy was that?! I just placed my order for the runner,Julian .
Thank you so much for all your help and advice.Your honour and integrity instills a lot of confidence.

Judy
---
Dear Julian

The boys came first thing which was great and they have done a lovely job - it looks great - thank you very much

Many Thanks
Nancy
---
Stair Runner arrived and thank you for the xcellent service

Jill