SISAL STAIR RUNNER OR SYNTHETIC
BUYING TIPS AND GUIDELINES
THINGS TO CONSIDER WHEN CHOOSING SISAL STAIR RUNNER AND OTHER NATURAL FLOORING AND SYNTHETIC PRODUCTS: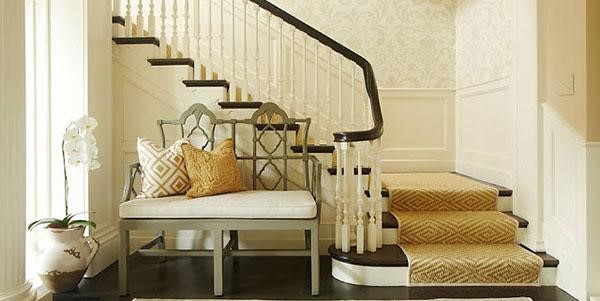 WHICH MATERIAL TO CHOOSE

Choosing the best material for your stair runner is particularly important as staircases are the most punished flooring in your house. This stands to reason as wear is concentrated in small areas and foot action is more aggressive on stairs.Here is run down of the pros and cons of the various materials choices.

Polypropylene Stair Carpet

Contains Voc's which can be hazardous to health and particularly exacerbate Asthma or breathing conditions. Eczema and skin conditions can be irritated by Voc's and they are potentially carcinogenic. Very quick to flatten causing a tired worn effect. It is Oleophilic which means it attracts oils. Once the carpet is bound to these oils they are hard to remove. Traffic lanes are caused. Worn areas look faded. The plus point of Polypropylene is it looks nice when you first install it and it is cheap.

Polyamide Stair Carpet

Contains chemicals and petrochemicals which are damaging to the home air quality. Also contain Voc's which can trigger asthma and breathing conditions, Eczema and skin conditions are also sometimes caused by Vocs. This material is also Oleophilic so again attracts oils which cause damage. Advantages are that Polyamide is colour fast and cheap.

Wool Stair Carpet Runner

Wool is easy to contact die so it is particularly vulnerable to orange juice, and animal Urine. Bleaches will dissolve wool. Wool is opaque making it good at hiding soiling. Wool recovers or bounces back well.

Sisal Stair Runner

Sisal is a natural material containing no vocs or chemicals. Good sisal will also have latex chemical free backing. Your family and the environment are safe. Great for asthmatics. Sisal is usually ribbed and if ribs are across it is very non slip Sisal is extremely hardwearing and naturally resists viruses and bacteria, Sisal looks stylish and unique. The disadvantage of sisal is it is marginally more pricey than the alternatives.

TYPE OF SISAL STAIR RUNNER AND OTHER NATURAL FLOORING PATTERNS

Patterned runners are beautiful, and come in a limitless choice of colors and designs. But be sure that the pattern will work on stairs. Some patterns are more effective on long, flat surfaces, such as a runner in a hallway, and don't work as well when they are bent and folded over the stairs. If you have a curved or winding staircase, this is even more of a concern. Just email us if you want the best advice on the most suitable sisal stair runner with stripes. wholesalestairrunners@gmail.com

PATTERN SIZE

It is best to go small on a stair runner for the scale of the pattern. Large patterns will be lost and will look too uneven as the sisal stair runner and other natural stair runners bend over each stair. Smaller patterns will nicely showcase the design on each tread and riser. On narrow stairways, a small pattern can help the stairs to seem wider as multiple pattern repeats. It would trick the mind into seeing a bigger expanse.

TRADITIONAL SISAL STAIR RUNNER AND OTHER NATURAL FLOORING

Perhaps you would prefer a sisal stair runner or other natural flooring with no pattern, or with a more subtle design. In these cases we can give you a great tip. The combination of natural products with synthetic items like a glazed modern vase or a white staircase can cause a pleasing and designer contrast. The contrast draws attention to the beauty of your sisal stair runner at a textural level. A sisal stair runner or other natural material in its raw woven state can bring a beauty to your design beyond the measure of any man made substitute.

STAIR TREADS

One option for stair carpeting is to cover only the tread (the part of the stair that you step on) a runner, and leave the riser (the back) of the stair uncovered. This creates a different overall effect than covering the whole stair, and can be a good choice in more minimalistic or modern decors.

For runners covering the treads only, use a subtle pattern or no pattern at all since the carpet pieces will be broken up.

DECORATIVE RODS

Rods are an accessory to sisal stair runners and other natural flooring products. Stair rods are still an integral part of many installation techniques. They hide dimples in the stair runner caused by installation staples or nail heads and they are also often required to conceal a pattern mismatch when the carpet runner is cut during installation at each step where the tread meets the riser. A metal rod is installed at the back of the stair, where the riser meets the tread. The rod is not actually holding the runner in place. The runner is installed using staples or whatever other means deemed appropriate by the installer. The rod is merely decorative, and is completely optional. Rods usually have ornamental design on the ends to accentuate the overall look.

UNDERPAD

Despite the fact that the sisal stair runner and other natural stair runner has a latex backing already, it still benefits from a cushion, or underpad. The best cushion for under a runner is very thin, so that it doesn't raise the height of the runner. It should also be dense, to adequately support the runner so that the carpet doesn't flex too much when walked on.

Rubber pad is a good option under a stair runner, because it is firm and very dense. The cushion should be slightly narrower than the runner, to allow the runner to sit tightly against the stair, and ensure the underpad is not visible from the side of an open staircase.
To view our full range of eco friendly sisal stair runner click here.
For more more information and inquiries, just email us at wholesalestairrunners@gmail.com